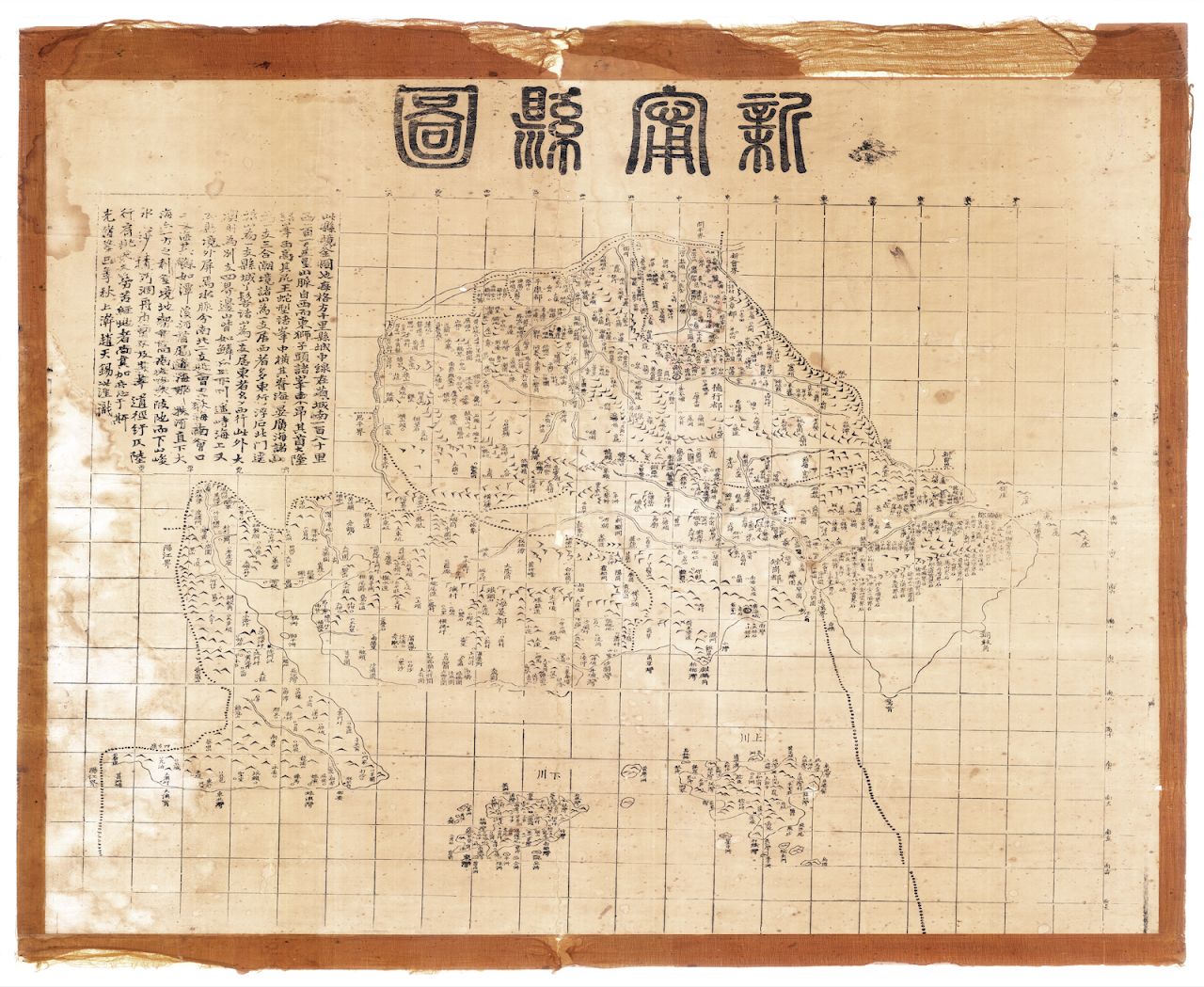 This is a map of the entire county. Each square represents 10 Chinese miles. The middle line of the

county seat 縣城

is 180 Chinese miles to the south of the capital of the province.
The

mountain range

, which is 150 Chinese miles to the west, runs west to east.

Shizitou 獅子頭

and other peaks raise their heads high majesitcally in the east.
The peaks in

Dalong 大隆

are high in the west and the spine of the mountain range ends at

Wangshexing 王蛇形

which together with other peaks cuts across the spine horizontally. The various mountains in

Haiyan 海晏

and

Guanghai 廣海

form a branch.
Those in

Sanhe 三合

and

Chaojing 潮景

form another branch. Most of the mountain ranges that occupy the west run east. Those in

Fushi 浮石

and

Beimenjing 北門逕

form a branch.
The various mountains near the county seat and

Yaji 丫髻山

Mountain form another branch. The mountains that occupy the east tend to run west.
Other than these, the mountains at

Da'ao 大澳

form a branch. The mountains along the four borders are like scales.

Shangchuang Island

and

Xiachuan Islan

tower far away in the sea.
Furthermore, the waterways in the county are divided into the northern and southern branches. The rivers in the northern branch meet at

Di Sea 荻海

while the ones in the southern branch converge at

Sancha Sea 三叉海

.
Others such as deep ponds, streams, and rivers flow through to the sea at both their sources and mouths.

River Nafu 那扶

flows straight down to a big sea, making it convenient (to travel) in that direction.
The terrain in the entire county is high in the central part with rugged hillsides slanting downwards to steep hills in the north and south.
Sand sediment accumulated in the water and dried-up rivers make it difficult for boats to travel through narrow and twisted paths.
Laborers who walk on foot and are carrying poles need to especially avoid these areas.
Carefully recorded by Zhao Tianxi in the first 10 days of the 9th lunar month in 1893 during the reign of Guangxu Emperor.